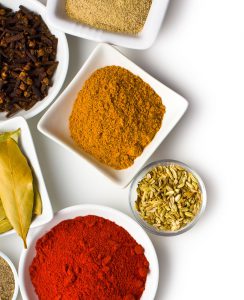 Namaskar spices is a revolution in the world of spices, serving well over 50 different products to the global spices market, helping you to make finger licking food every time.
We are living in a country with age old food traditions, going back to the days where the old rajas and maharajas would hold feasts n their castles to the modern world, with an infinite selection of dishes and combinations. For a country like India, Namaskar Spices give to you a wide selection of spices and food additives for every kind of meal.
WHAT WE DO?
The gems in our crown are our products which are of use not only on occasions but also for daily usage. Some of our products include chilli powder, turmeric powder, coriander powder, dried mango powder, sambhar masala, pav bhaji masala, wheat flour, gram flour, chana masala, tea powder, potato spice powder, etc to add wonders to your meal. The products are majorly appreciated for all the significant features which include the aroma, taste, zero added preservatives, no artificial colours, easy to digest, safe packaging, hygienically processing and long shelf life.
OUR HISTORY
Since our establishment in 2002, we took the market of Jaipur by a storm, under the long-sighted and visionary counsel of our proprietor Mr. Rajat. Namaskar is the brand name of the products offered by us at M. S. Products. Our reputation as a renowned manufacturers, wholesalers and suppliers of spices, condiments and food edible items is not forsaken for more than a decade and hence, we have been sailing smoothly across the market of Jaipur. The motive that drives us is to give your food the best taste within the limitations of how a health oriented food should be, this means that you don't have to worry about either the taste or your family's health. As an addition, the cost of our products is less as compared to our competitors in the market, which makes us a tasty, healthy and an economic solution for all your spice requirements.
We proudly proclaim that each and every practice taking place in our production unit is well under the food and agro industry norms and passes every quality check. We are well known for the quality of our products. Taking full care of the spices along with its packaging, we ensure full health conscious practices from our side of the deal. Jaipur, being the hub of our production, witnesses our infrastructure to be the one developed with proximity to perfection. Separated blocks for every stage, namely cleaning, dehydrating, grinding, quality control, storage, packaging, encourages no touch of hand so that the spices are free from all sort of disease causing microbes. The quality control practices adopted by our skilled technicians examine the product on a series of parameters to ensure safety of our clients. The packaging of our products is also done carefully with food grade plastics with total food preservation practice.
Even in the global market of spices, we stand tall among our competitors as one of the leading spices suppliers. Our spices export network has been laid down in some of the biggest countries like the United States of America, Qatar, Canada, China, Germany, Japan and many other countries. Hence, our reaches in the global market has been well known throughout the market of spices.
The team Namaskar Spices comprises of more than 50 skilled food item manufacturing personnel, having tremendous level of experience and in depth knowledge of this field. They are the major shareholders of all the success that the company has achieved. Giving their 100 percent every time and working hand-in-hand with each other are the core strengths of our staff. Apart from the hard work, their sophistication level is also unmatchable. All the quality checks are done by our professionals so thoroughly that none of the products remain unchecked. It is safe to say that the quality of our product is in total compliance with the quality of our staff.
THE BENEFITS WE PROVIDE
Since the foundation stone has been laid, Namaskar Spices by M. S. products has constantly proved itself to be a revolution in the market of spices. The motive behind our working is:
Providing you the finest taste boosting spices, made from the best ingredients.

Giving you properly checked and tested spices, so you don't have to compromise with your health.

Supplying the spices at lower rates, so your budget stays balanced and you don't have to spend a fortune on your daily spice requirements.